When Your Child's Heart Breaks
Last night I left my son's room after kissing him goodnight, walked downstairs, and quietly sobbed in my husband's arms.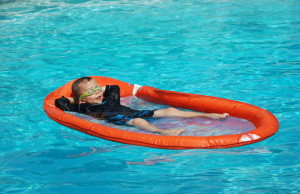 Several minutes later when my tears were spent for the time being, my husband asked for details. He knew I'd been up there longer than usual, and my grief was setting off alarms in him.
Our son is a great kid with lots of talents who, like all of us at one time or another, is experiencing negativity from some of his peers at school. He is a well-adjusted, well-liked boy who is entering into a phase of life that's testing his self-esteem as certain kids decide they're the ones to define acceptability and what it means to fit in. (Cue Mother Bear growl. That's me on the inside; don't mess with my kid.) My superboy has reached a new season of growing up when he must decide who to believe and whether to keep trying in certain things that other kids are better at right now.
Seeing him deflated and wanting to give up is killing me. I laid in bed for several hours praying and crying some more, asking God to fill him up and meet his heart-needs, as well as my heart-need to see him feel good about himself and to roll with the ups and downs in a healthy, proactive way.
I prayed. I cried. I missed sleep. I ached for him. I wondered what I had done wrong and how best to reach him. And I prayed some more.
Just before I finally drifted off to sleep I felt it steal over me: the promise I had been hoping wouldn't take long in coming to relieve my crushed spirit. Feeling the Holy Spirit minister to me isn't a new thing, but each time it happens He surprises me.
I am for him. Remember that. He is more mine than yours, and yes, you can trust me with our child.
I am for him.
It is easy to say the words that God loves our kids. But only when I stop to say "GOD is for my child" and exult in that promise does my heart begin to see a situation through his divine lens.
GOD. GOD is for my child. He is for yours as well.
The GOD who spoke the universe into being, the GOD who made the first rain fall and caused the sun to stand still, the GOD who saw with unsurpassable love my child's face when he sent his own Son to die for mine . . .
That GOD is for my kid. He rules the earth and skies; He whispers to us and clouds scatter; and He settles my small one's insecurities by speaking His own private language to his hurts. The One and only Holy Spirit who whispered to my spirit in the stillness is the very same GOD who will minister to my son at his place of woundedness. My son knows Jesus as his Savior; I have to trust that GOD is building his faith and well being through all of this.
Without realizing it, I often assume that I care for my children more than GOD does. Hallelujah and amen that is the polar opposite of the way things truly are; if there's something I love to be wrong about, it is that.
I'll admit, I shed a few more tears this morning, but GOD's promise for my children is one to repeat as necessary until it sinks in way deep.
GOD is for our kids, yours and mine. He pursues them. That is what matters most as we send them off to face the world.
"You whom I have upheld since your birth, and have carried since you were born. Even to your old age and gray hairs I am he, I am he who will sustain you. I have made you and I will carry you; I will sustain you and I will rescue you." Isaiah 46:2-4, NASB
"The Lord your God in your midst, the Mighty One, will save; He will rejoice over you with gladness, He will quiet you with His love, He will rejoice over you with singing." Zephaniah 3:17, NKJV
"Don't be afraid, for I am with you. Don't be discouraged, for I am your God. I will strengthen you and help you. I will hold you up with my victorious right hand." Isaiah 41:10, NLT
"The Lord is my light and my salvation–whom shall I fear? The Lord is the stronghold of my life–of whom shall I be afraid?" Psalm 27:1, NIV
"In all these things we are more than conquerors through him who loved us." Romans 8:37, NIV